Pickle is an Indian tradition. Most Indians want pickles with their meals. And most Indian women make pickles and do not hesitate to buy good tasty pickles.
The pickle market in India is a huge market with approx Rs 400 crore industry. Apart from this, India exports pickles to 50 other countries, which has exported 193 cores in FY 2021.
Pickles are eaten and prepared in almost every Indian home, so Indians have basic knowledge about pickles. And since this pickle business is in demand at home and abroad, anyone can enter. And can generate a nice income.
So if you want to know how to start a pickle business? And if want to start a pickle business. Then read this article for you.
How To Start A Pickle Business
Types Of Pickles-
There are varieties of pickles, such as mango pickles, carrot pickles, chili pickles, amla pickles, and lemon pickles.
There are all kinds of sweet, sour, and solder in it. Choose what kind of pickles you want to sell. And try to make a pickle that new unique taste.
Requirement For Pickle Business-
Before starting a pickle business, you need to know whether you want to start this business from home or make a small factory to make pickles by machinery. To start a pickle business from home, household utensils are enough to make pickles, and to start a pickle business on a small scale you need to hire a worker.
To start with machinery 900-1000 square feet of space and 4 skilled and unskilled laborers will be required. Also need commercial electric connection, good water supply, etc. Also, things like jars, logo stickers, domains, and trademarks are necessary to start this business.
Raw Material For Pickle Making-
You need carrots, green chilies, ginger, lemon, cucumber, coconut, etc, to make the pickle.
For spiciness, methi, salt, black pepper, turmeric and mustard oil, etc.
Budgeting-
It takes very little investment to start a pickle business. If you want to start this business from home, then with jars, logo stickers, a worker, and the necessary raw materials. You can start this business from home with an investment of just 10,000 rupees.
And if you want to start with a semi-automatic machine, your costs will be 4 lakh rupees approx. And with this salary of 4 skilled and unskilled workers will be spent.
Start by arranging necessary backups like 2-3 months of employee salary, electric bills, property rents, etc.
Competitors Analysis-
Before starting a pickle business, you should know about your competition. You need to know what kind of pickles your competitors make, how they sell, where the supply is more at home and abroad, and try to make your pickles better than their pickles.
You can also do a SWOT analysis of competitors and yourself.
S-Strengths, W-Weaknesses, O- Opportunities, T-Threats analysis.
License-
The most important part of 'how to start a pickle business' is the license. When starting any food-based business Food Safety And Standards Authority of India (fssai) license is required. Also, Trade License, GST Registration, Uday Aadhaar Registration, and PAN Card Registration are required. Also if you start with a semi-automatic machine, then you need a commercial electric connection, and if rent is in place, then take proper documents.
When starting a business register the domain name of the company, like .in, .com, .net, etc.
Government Schemes-
The Indian government is launching many schemes to support new small startups. So that some people get jobs.
There are various schemes for pickle businesses, through which many types of benefits will be available, who will start pickle business through these schemes.
schemes likes-
Marketing-
The last and most important topic of the 'how to start a pickle business' article is marketing. Your business is incomplete and worthless without sales, so marketing needs to be built for sales.
Take the help of online marketing for pickle business. And give free and combo products, like 200 gm mango pickle along with 70 gm lemon pickle free. And you have to make some marketing strategy yourself to take your pickle business to the next level. And pickle retailers have to pay more profit margin. And if they sell more, give them some gifts. Because the retailer is your main salesman, that's why take care of them.
Business Model Canvas-
If you want to understand the pickle business well and start perfectly.
The Business Model Canvas can help more.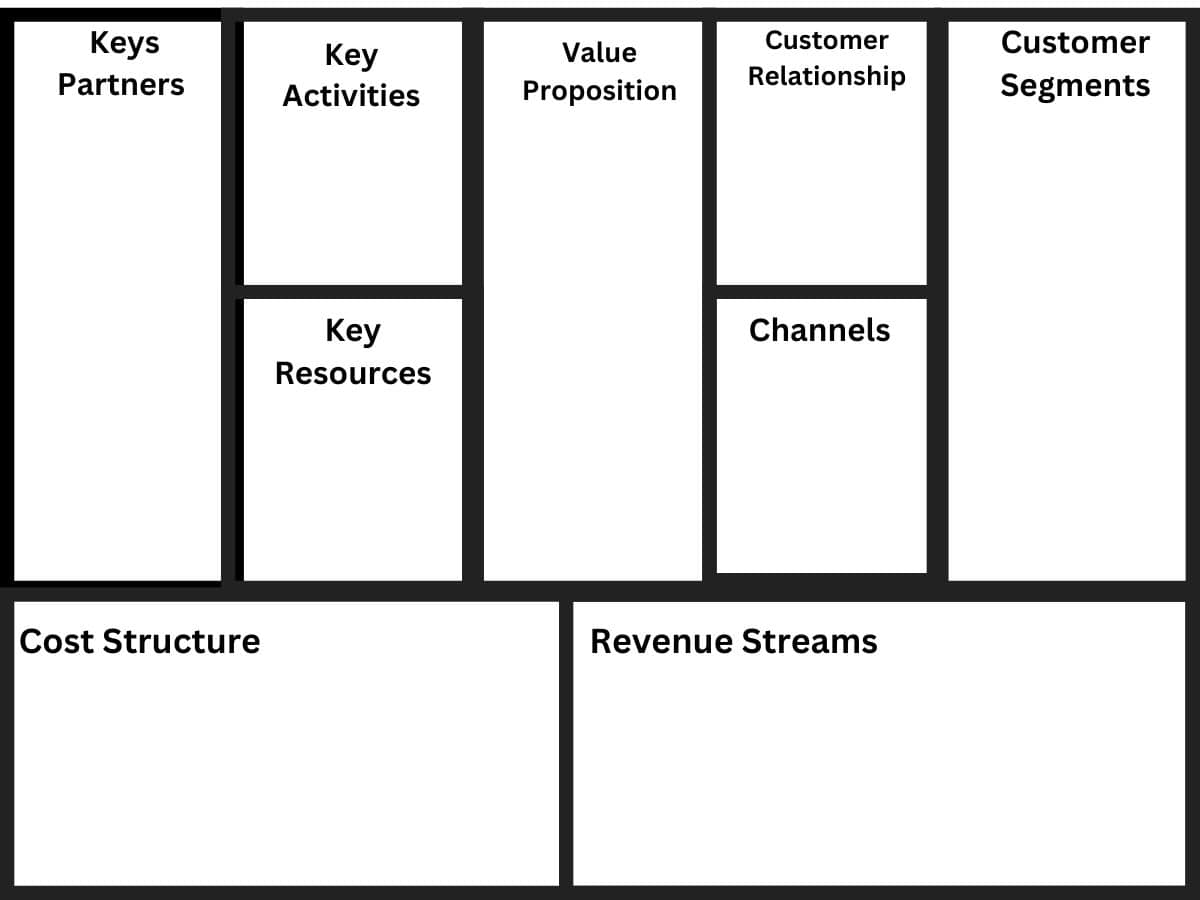 5 tips for pickle business-
Try to create beautiful packages.
Connect with distributors.
Try to sell your pickles abroad.
Learn about customers' tastes.
Make a website for your pickle business.
Conclusion-
'How to start a pickle business in this article, we know about types of pickles, requirements, raw materials for pickle-making and license, etc.
After reading completely we are sure that you don't have any queries, if You have any queries comment below. And if anyone wants to know about 'how to start a pickle business' share this article with him.